Vintage Playsuit Sew Along
Stephanie over at
The Girl With the Star Spangled Heart
is hosting a Vintage Playsuit Sew Along which will take place throughout June.
I have decided to take part in this sew along as I have wanted to make a vintage playsuit for quite a while and this is the perfect excuse.
After I discovered the sew along yesterday, I purchased a pattern from
Mrs Depew Vintage
on etsy. The pattern that I have gone with is for a 50s blouse and capri pants.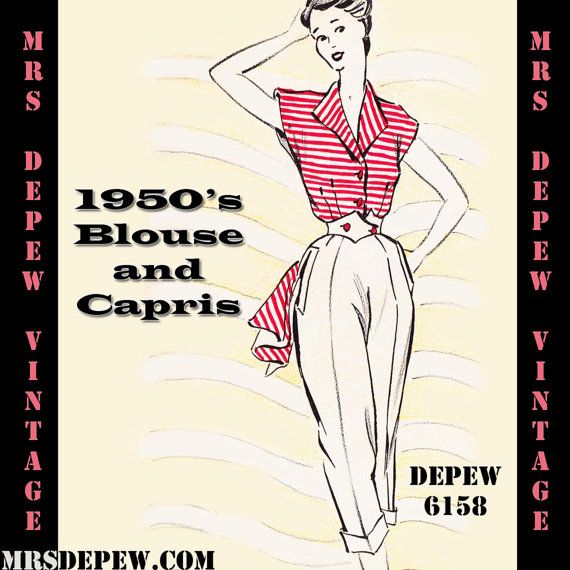 I am hoping to make a blouse, capri pants and a dirndl skirt. I am also going to either try to shorten the capri pants pattern to make shorts or buy another pattern as I would really like a pair of shorts to match. There are a few nice patterns on Mrs Depew Vintage which could work, along with a few bra top patterns which would be quite nice. She also has a couple of one piece playsuit patterns which I have my eye on. I am going to wait until I have made my blouse before I purchase any more patterns because I want to see how well I am able to work from these patterns before I buy more. They are draft at home patterns and have no instructions, so I am just going to throw myself in and see how it turns out.
After I have made my blouse (and possibly the capri pants, too) I will reassess the situation and decide whether I want to buy patterns for other parts of the playsuit and where I will get them from.
Now for the most important part - Colours! I am currently thinking of making the blouse in a red gingham fabric with a navy stretch denim for the capris/shorts and skirt. I have tried to think of any other colour schemes that I might like to use, but navy, red and white is what I keep coming back to. If I do end up making a bra top, that will also be made out of red gingham.
I am really looking forward to getting started with this sew along and am also looking forward to using my first Mrs Depew pattern. I will post about that pattern and how I find it when I have bought my fabric and drafted the pattern.
Just need to buy lots of fabric for both this and my Captain America USO Girl cosplay so that I can get them both started!